MY NAME IS DENNIS BUZIS AND THIS IS MY STORY
MY EARLY YEARS
Growing up my father and I were huge Bruce Lee fans. I can remember watching so many of his movies with my dad on the weekends. Never having the chance to study martial arts my dad lived his dream through me. At the age of 6 he signed me up at a Tae Kwon Do school in Brooklyn. just blocks form my house. It was there that I fell in love with the martial arts and developed a passion to be the best I could possibly be.
After years of dedication to my art I received my black belt at the age of 16. For the next 8 years I devoted everyday of my  life to the Master of my school. Unfortunately, the Master ran his students more like a cult than a family. His greatest talent was finding young passionate students and exploiting them for this own personal benefit.
Once my father saw what I was becoming, he quickly stepped in and pulled me from the school. Effectively saving my life. He knew I needed to get away from there so he sent me to my grandmothers house in his home town of Greece for 2 months.
When I came back to New York I knew what I needed to do with my life. I left that school as a 3rd degree black belt and set out on my own to achieve my dream of becoming an instructor. But where was I going to get the money for that?
I moved from Brooklyn to the upper east side when I got a job at Memorial Sloan Kettering as a promising x-ray technician. I  was set, although my passion was still martial arts. Everyday after work I would go to the Lenox Hill Community Center to work out and practice my Tae Kwon Do. It wasn't long before the manager of the gym asked if I could teach at the center… The rest was history.
MY BLACK BELT TRAINING AND PHILOSOPHY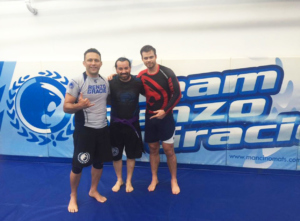 After receiving my 3rd Dan black belt in Tae Kwon Do, after my Greece trip as a real life Ronin, I took up boxing at Gleason's boxing gym where I met my present day trainer Willy. He was my Mickey, like in the Rocky movies.
In 2000 I received my 4th Dan black belt in TaeKwondo from the ITF. But something was missing. I didn't want to get stale like most of my colleagues doing TKD. So I followed in the footsteps of George St. Pierre who went from traditional Karate to boxing and Jiu-Jitsu.
In 2005 my friend John introduced me to Renzo Gracie's school to learn Brazilian Jiu-Jitsu. I was hooked. I followed Bruce Lee's philosophy to become a true martial artist. Not to be confined to one style. To mix my TKD and Boxing background with Brazilian Jiu-Jitsu. I'm a strong believer in having a strong foundation and since I accomplished getting a 4th Dan black belt in TKD I was ready to start a new style!
I have been training with Renzo Gracie for over 15 years now and I received my purple belt from Renzo and my instructor Max McGarr in 2016. I love the atmosphere and it's totally down to earth unlike my TKD school I started with. Renzo Gracie doesn't sit on a pedestal, he calls himself the Head instructor and not the Master, despite having fought in the UFC and is a real martial artist!  My philosophy as an owner of a martial arts school is not be the king at the top but to constantly train and get my butt kicked and to learn something new every day.
HOW I BECAME AN INSTRUCTOR OF MARTIAL ARTS
While at Lenox Hill Community Center I established the most successful martial arts program. Teaching both kids and adults, I knew that i finally found my calling in life. In the summer of 2002 I got my chance. It was then that I met Ellen C. Matheeussen, who became my first private student and eventually my business partner. Ellen was a lawyer that wanted to learn martial arts. Developing such a passion for it that she received her black belt from me and changed careers to teach Tae Kwon Do full time. We created a business plan and found our studio a week later on 91st and 3rd on the upper east side. With my skill in martial arts and Ellen's legal, business experience we were able to open a successful business that is still thriving today.
My goal is to put my Tae Kwon Do, boxing and Brazilian Jiu-Jitsu together to become a great MMA fighter and instructor.
– Dennis Buzis